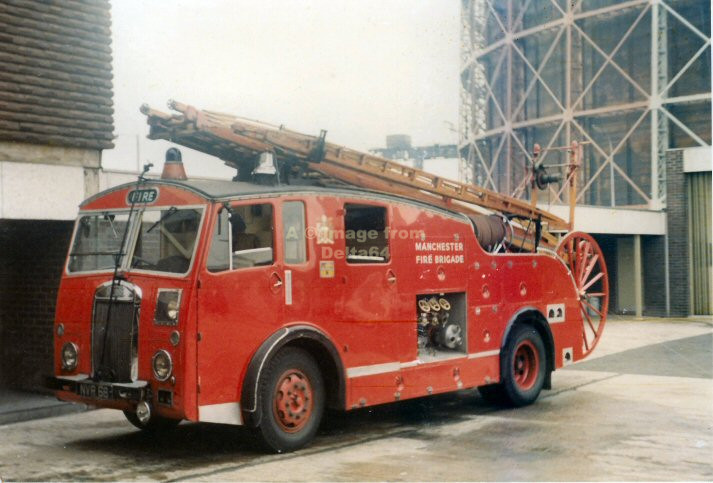 Dennis F12 Pump Escape NVR66 formerly at Mill Street, was seen in the yard at Philips Park.
[Copyright picture ~ R. Simpson and reproduced with permission.]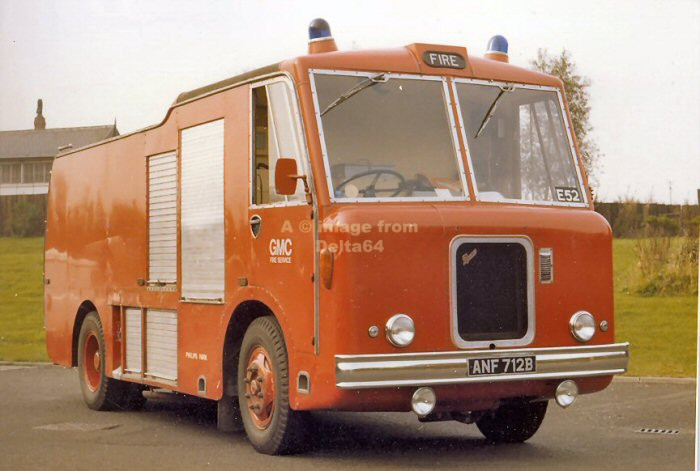 Albion Foam Tender ANF712B was a former Manchester City appliance.
[NP collection ~ courtesy A Collier]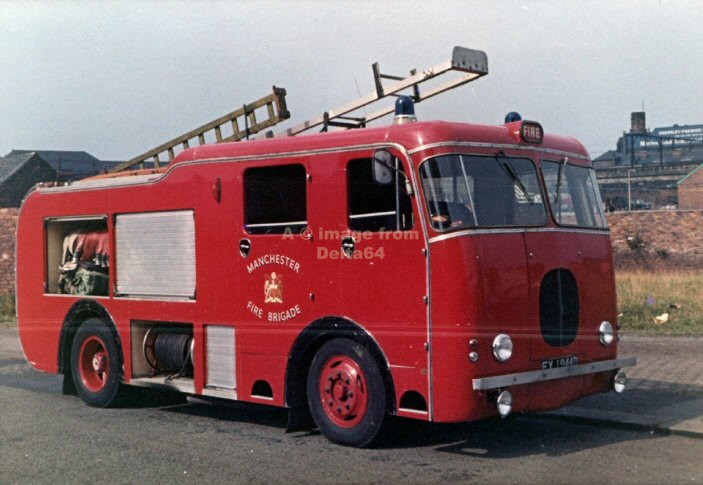 Albion Pump FXJ944D
[Copyright picture ~ R. Simpson and reproduced with permission.]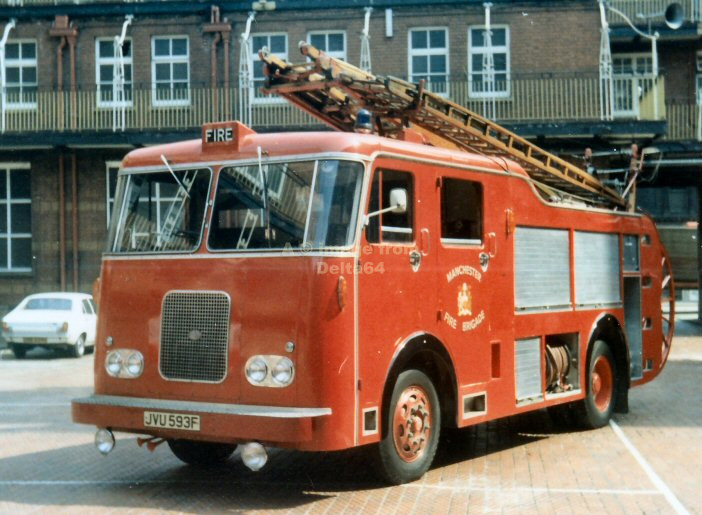 Normally based at Philips Park, Albion Pump Escape JVU593F was seen in the yard at London Road.
[Copyright picture ~ the late G. V. Rothwell and reproduced with permission.]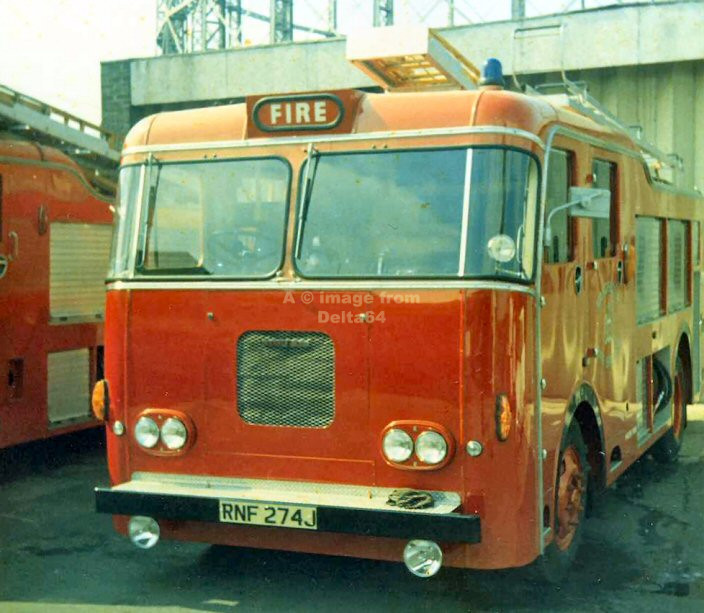 Albion Chieftain RNF274J was seen in the station yard.
[Copyright picture ~ the late G. V. Rothwell and reproduced with permission.]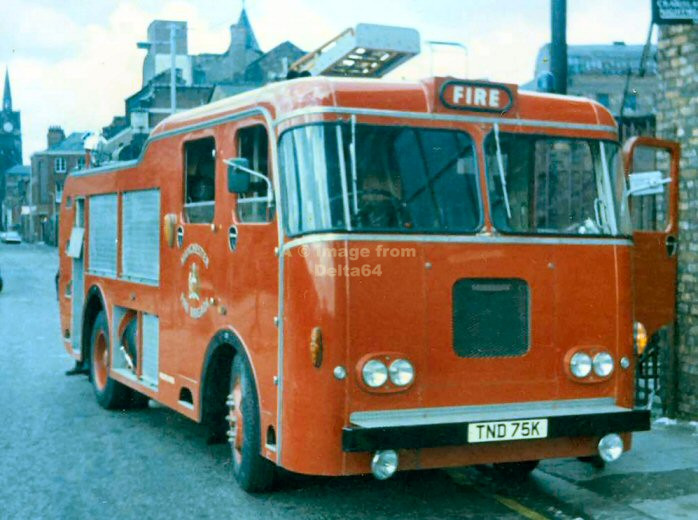 Albion RNF274J subsequently TND75K was one of three which were re-registered when already several months old.
[Copyright picture ~ the late G. V. Rothwell and reproduced with permission.]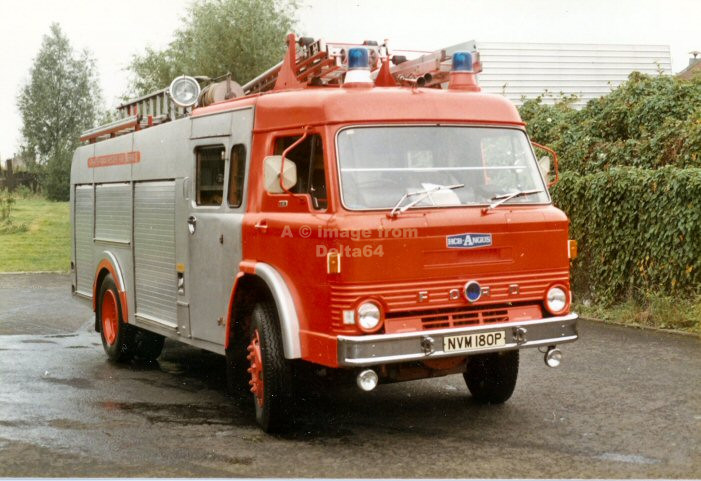 HCB-Angus bodied Ford NVM180P is believed to have spent some time here.
[Copyright picture ~ the late Alan Gartside and reproduced with permission.]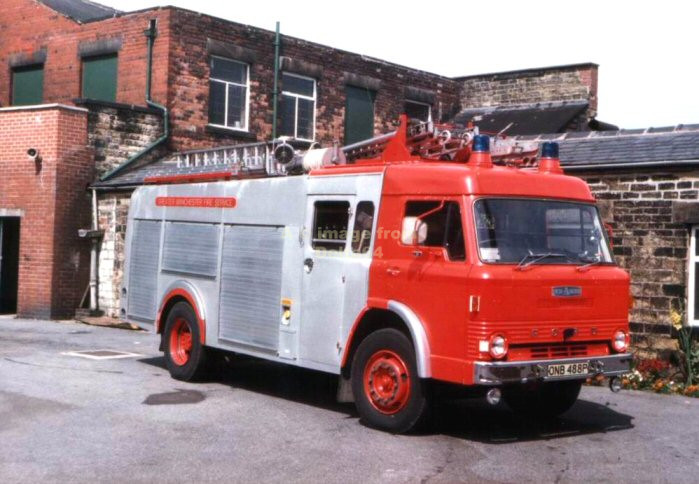 Whilst a number of Fords were inherited from Lancashire in 1974, ONB488P was one of the early GMC products.
[Copyright photograph Neil Green ~ courtesy Simon Rowley, FireFotos Archive.]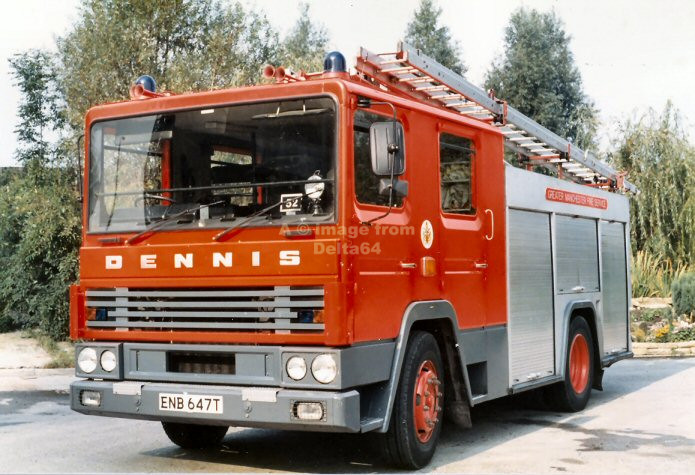 Dennis RS ENB647T was the first such appliance based here.
[Copyright picture ~ the late Alan Gartside and reproduced with permission.]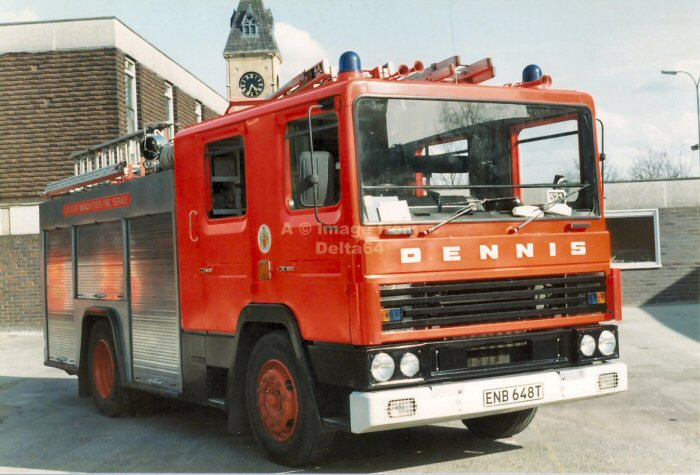 Sister appliance ENB648T was seen at the rear of the station, with the cemetery clock in the background.
[Copyright picture ~ the late Alan Gartside and reproduced with permission.]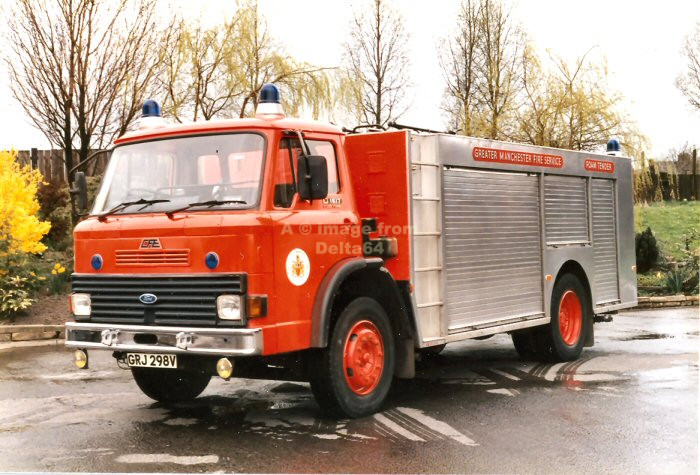 Due to the number of high risks in the county, GMC has normally operated three foam tenders or tankers,
all strategically placed around the county. Ford GRJ298V was based at Philips Park on the east side of Manchester.
[Copyright picture ~ the late Alan Gartside and reproduced with permission.]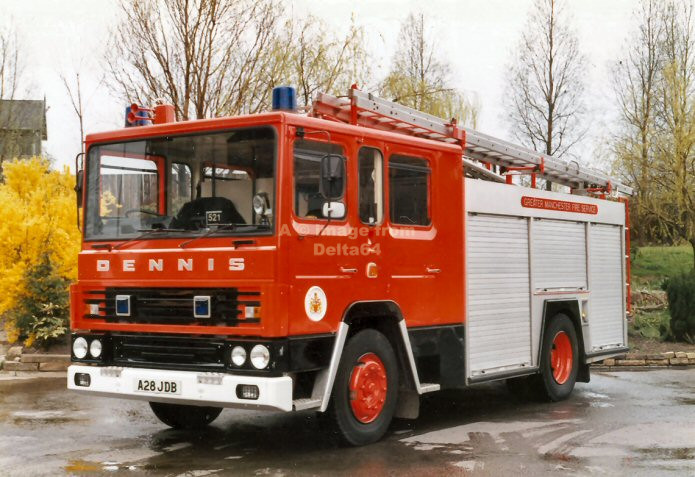 Dennis RS A28JDB was a replacement for one of the Dennis RSs above.
[Copyright picture ~ the late Alan Gartside and reproduced with permission.]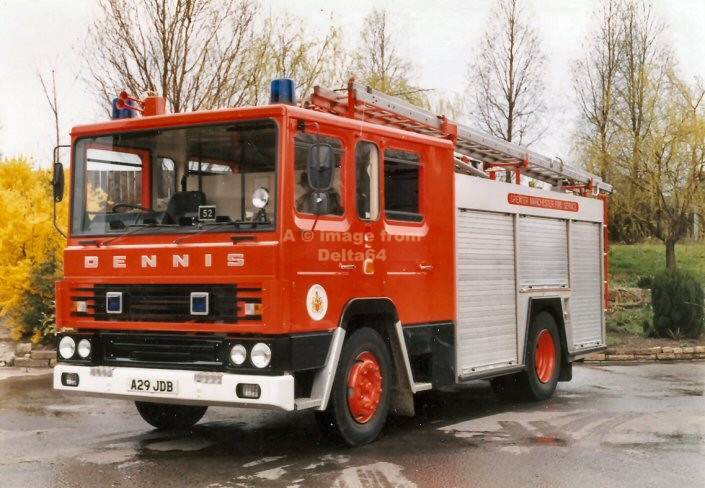 Dennis RS A29JDB made up the pair.
[Copyright picture ~ the late Alan Gartside and reproduced with permission.]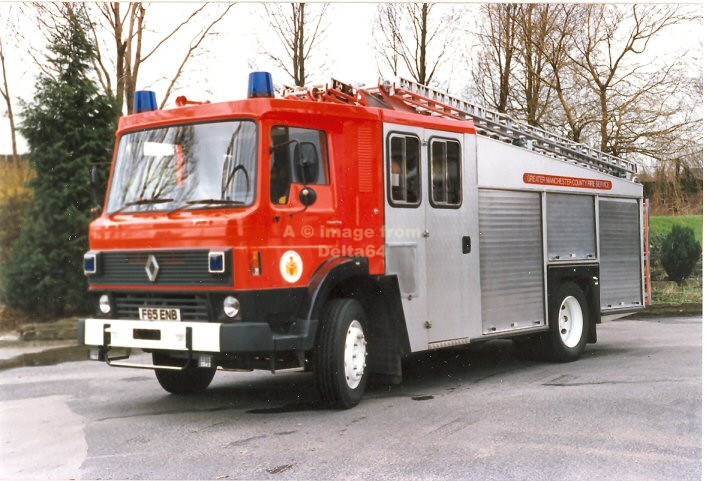 Following the 2 pairs of Dennis RSs came a pair of Dodges the first of which was F65ENB.
[Copyright picture ~ the late Alan Gartside and reproduced with permission.]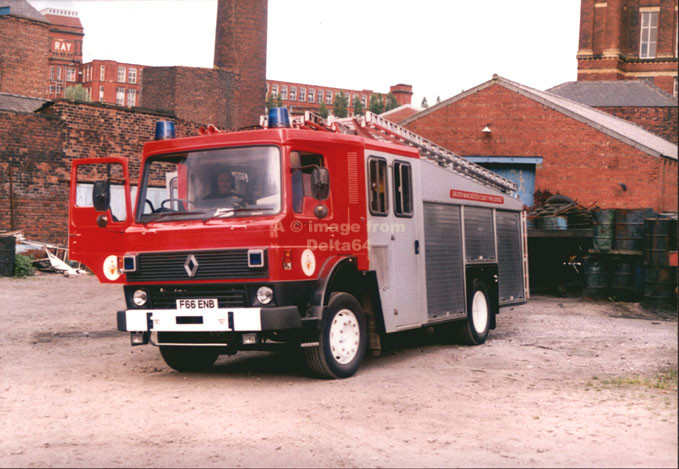 Renault-Dodge13 F66ENB was seen over the border in the former 'C' division ~ date unknown.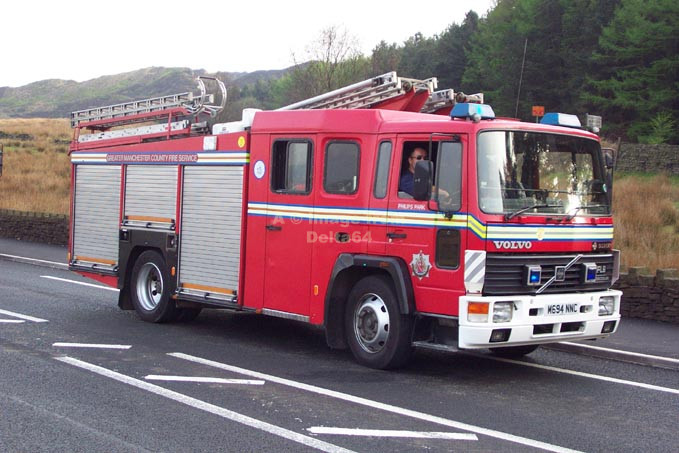 1st generation Volvo M694NNC was well out of its usual area. It was seen at a 20 pump fire on the moors north of Bolton, 16 April 2003.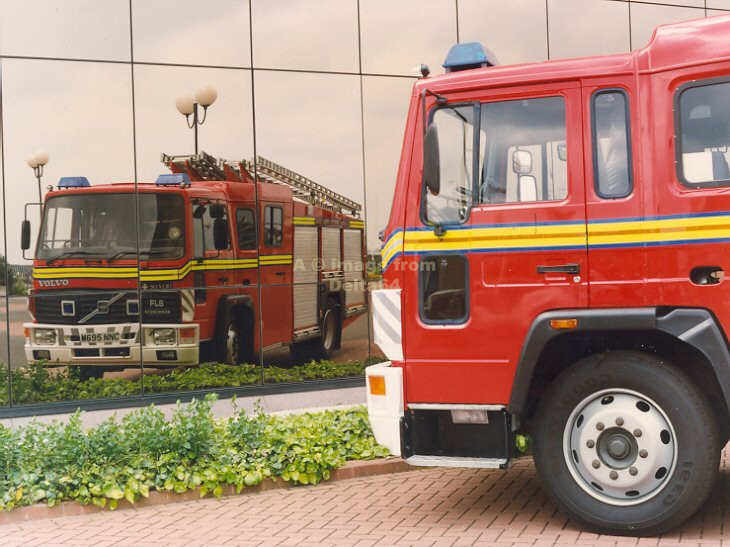 Sister appliance M695NNC was seen in this interesting pose in Salford when brand new.
[NP collection ~ courtesy A. Collier.]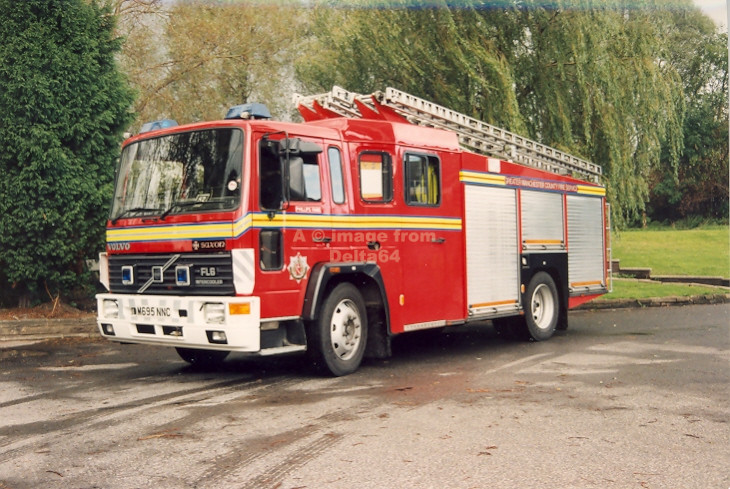 An 'in-service' shot of M695NNC in an unknown but idyllic locaiton.
[Copyright picture ~ the late Alan Gartside and reproduced with permission.]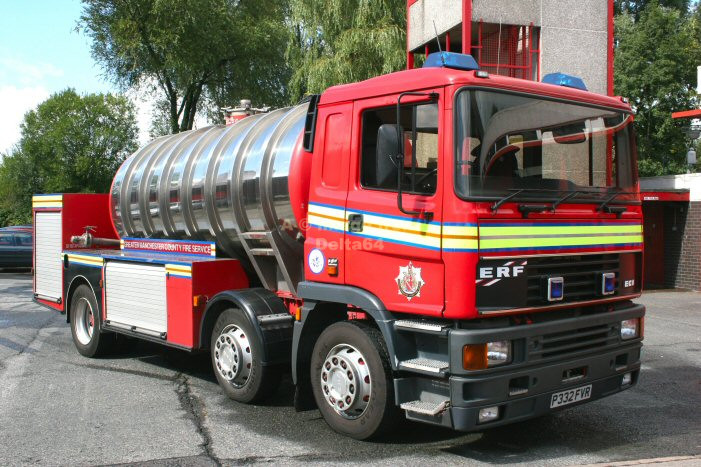 The former ERF FoT P332FVR was seen in the station yard, 29 August 2006.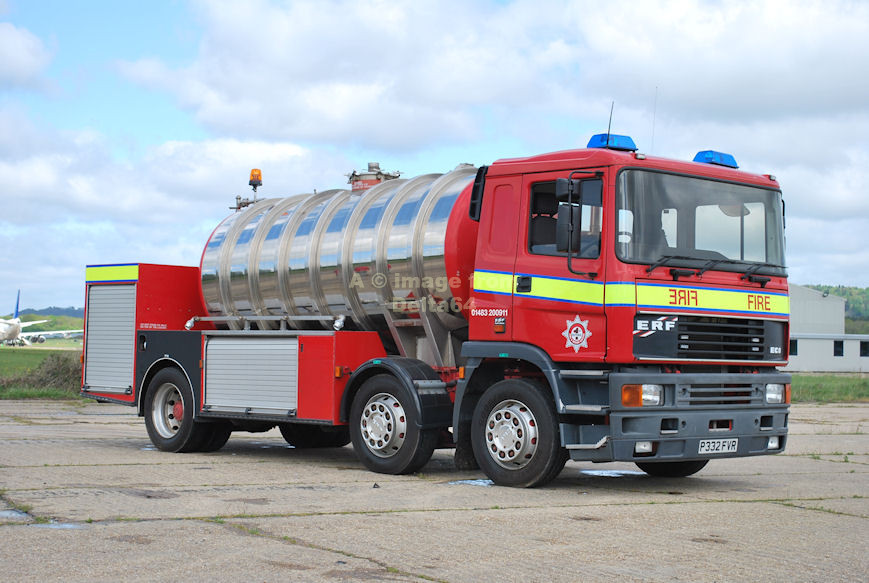 ERF P331FVR was in use with 1st Defence Fire & Rescue based at Dunsfold, Surrey in 2014.
[Copyright picture ~ S. Purves and reproduced with permission.]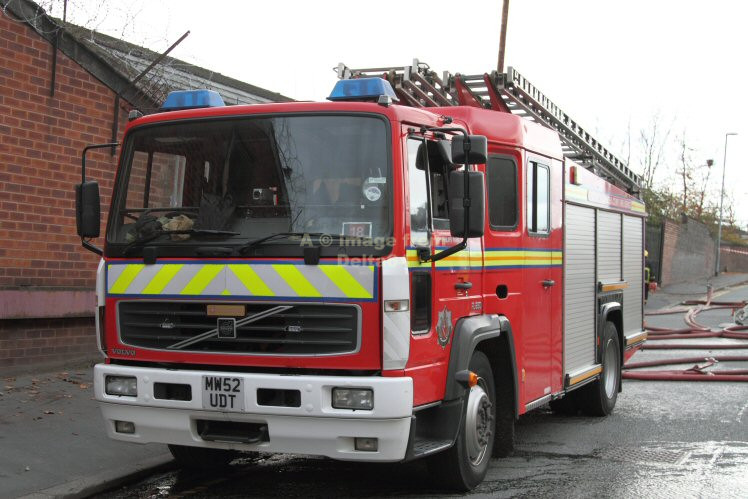 Pump MW52UDT was seen at a 7 pump fire in Ancoats, 6 November 2010.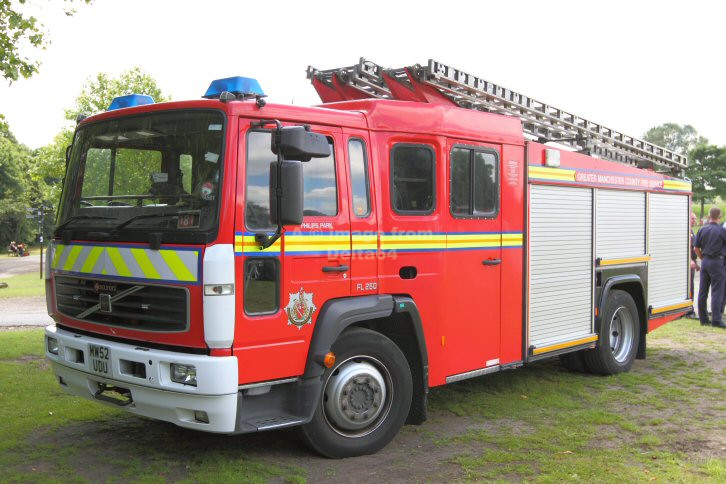 Sister appliance MW52UDU was seen in Heaton Park, 2 July 2011.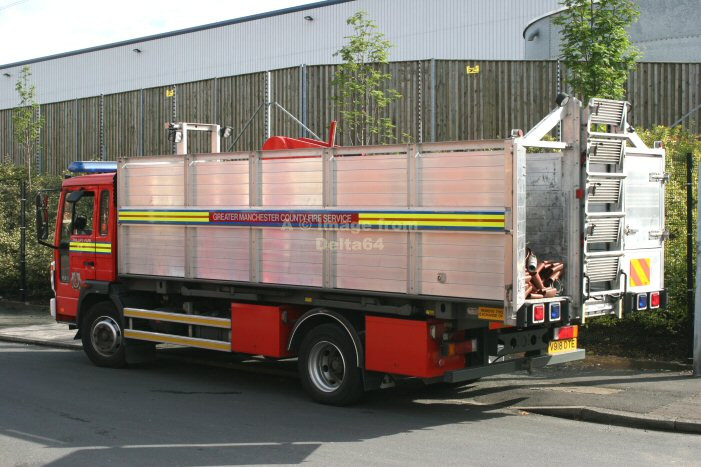 This rear shot of HRU V918DTE was taken at a 10 pump fire near the fire station, 30 May 2005.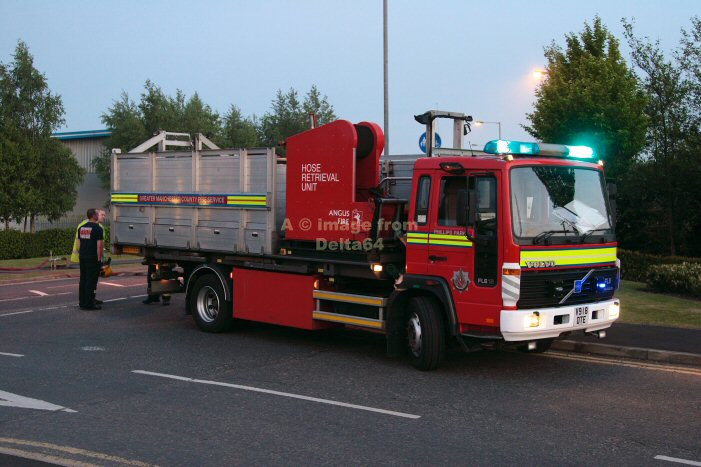 This late evening shot of HRU V918DTE was taken before the appliance entered Red Moss Nature Reserve, Horwich, 24 May 2010.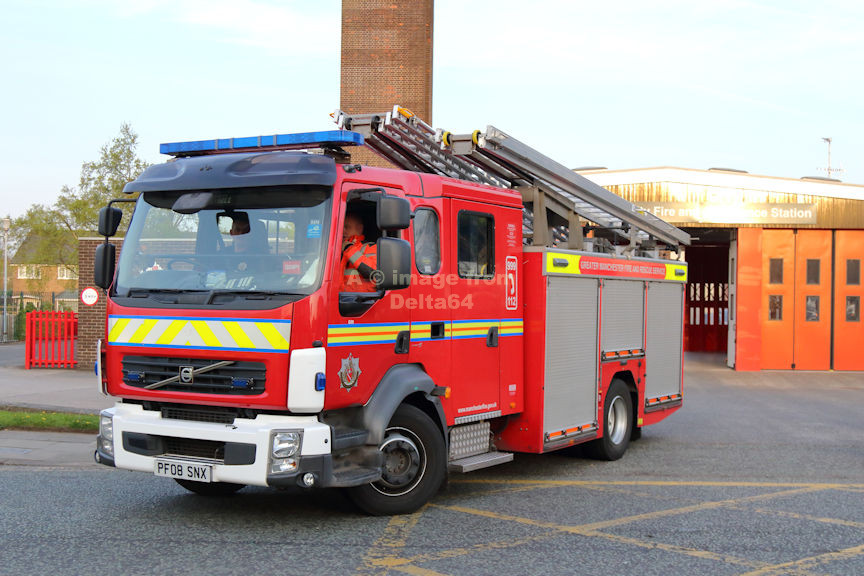 Volvo PF08SNX was seen reversing on to the forecourt at Whitefield Fire Station, 19 April 2019.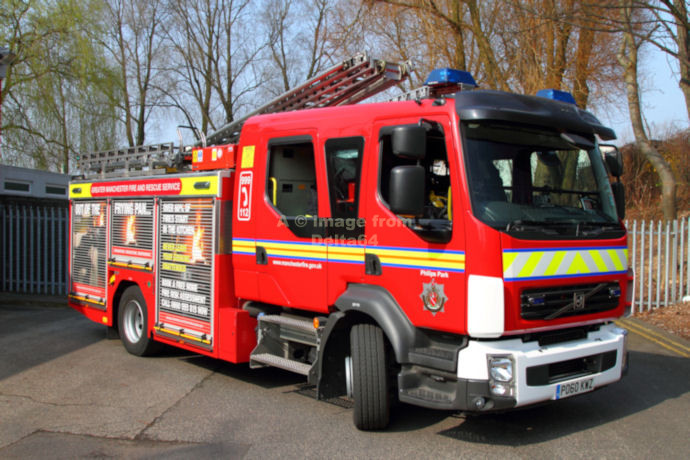 Volvo FLL PO60KWZ was seen in front of the fire station, 24 March 2012.