E70/C35 ROYTON/CHADDERTON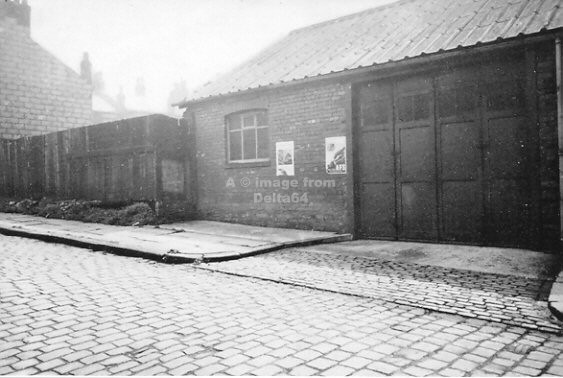 The old Fire Station in Jones Street, Royton, in 1960.
[NP collection ~ courtesy A. Collier]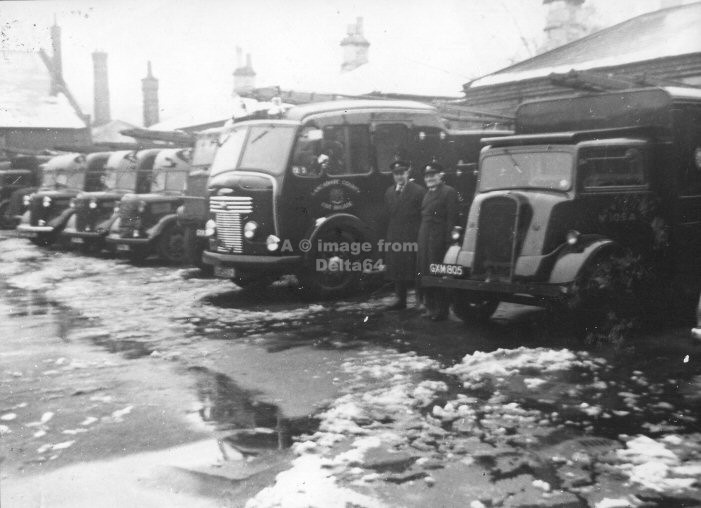 Although first based at Royton, OTJ493, second from the right, was seen in Grantham during Operation Seawall.
[Pictures courtesy MF&RS and reproduced with permission.]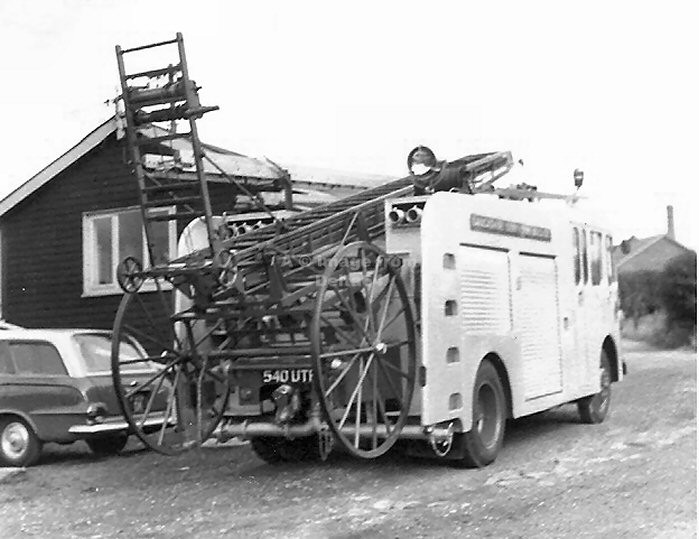 Bedford TK 540UTF was one of a pair of pumping appliances bodied by Cocker of Southport.
[Pictures courtesy ~ A. Entwistle and reproduced with permission.]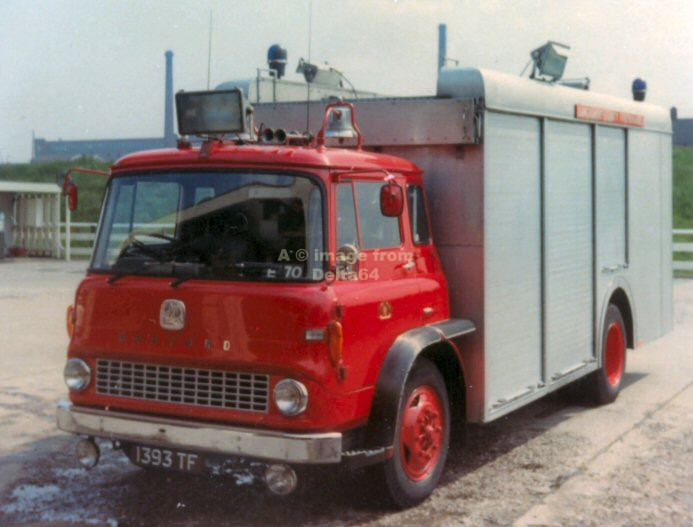 Bedford TK Emergency Tender was seen in the station yard.
[Picture courtesy MF&RS and reproduced with permission.]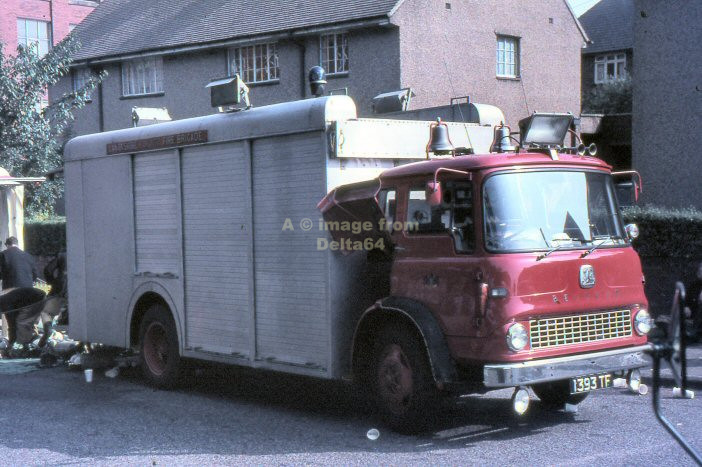 Emergency tender 1393TF was seen at Park Mill, Royton, 8 August 1970.
[Copyright picture ~ Satis and reproduced with permission.]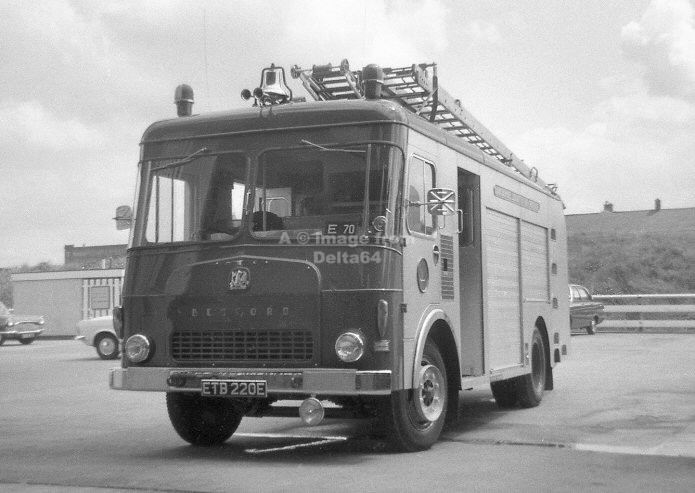 Bedford ETB220E was seen in the station yard having been in service about one month, 6 June 1968.
[Copyright picture ~ Satis and reproduced with permission.]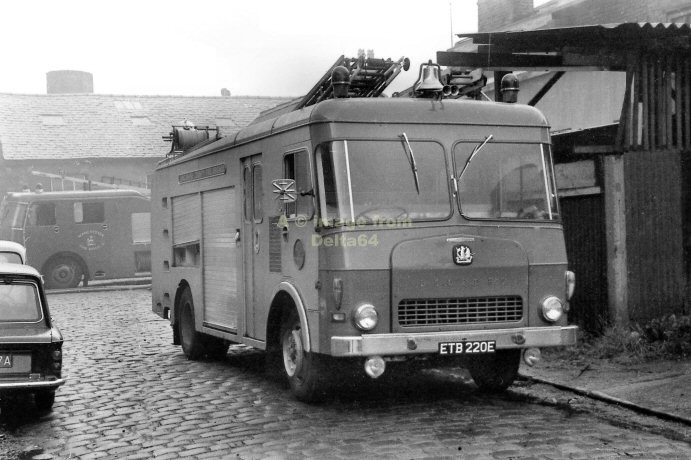 Bedford KEL ETB220E was seen on this occasion at Tudor Mill, Ashton-under-Lyne, 24 June 1970.
[Copyright picture ~ Satis and reproduced with permission.]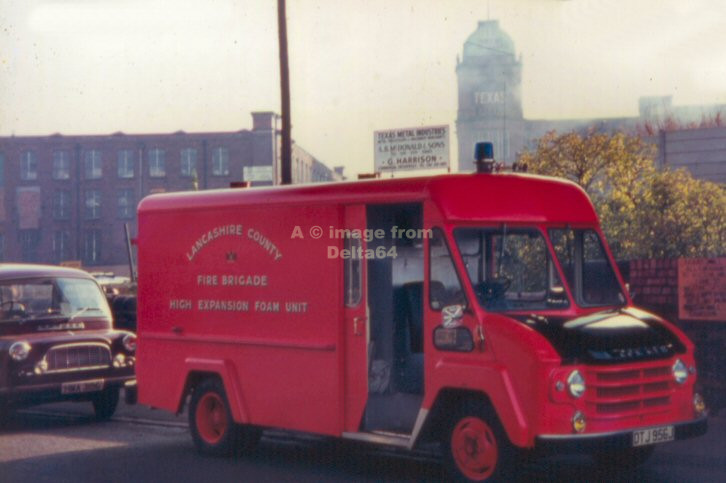 High Expansion Foam Unit DTJ956J was one of dozens of appliances at Texas Mill, 23 October 1971,
[A later picture appears on the Broughton page.]
[Copyright picture ~ K. Howarth and reproduced with permission.]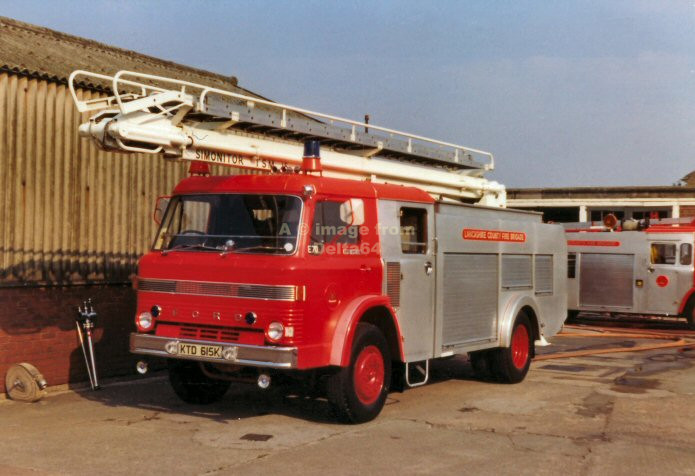 Ford Simonitor KTD615K was actually in the yard at Stretford fire station when this picture was taken.
[Copyright picture ~ R. Simpson and reproduced with permission.]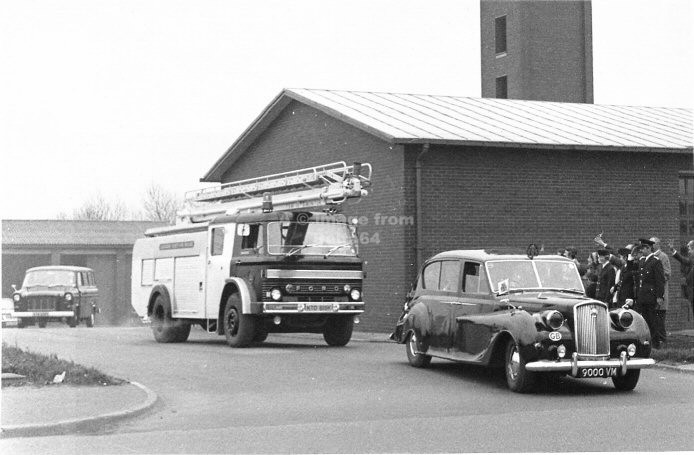 Simonitor KTD615K was seen leaving Agecroft Fire Station on its first trip to Germany in 1972.
[Picture courtesy ~ A. Entwistle and reproduced with permission.]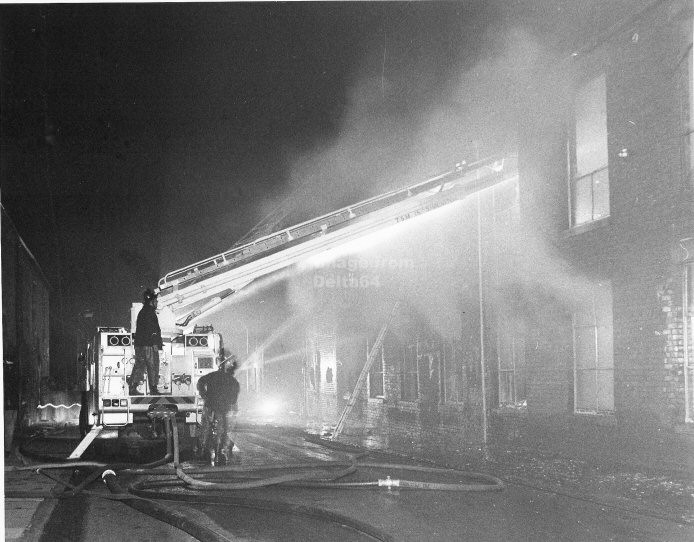 The same appliance can be seen in use at a warehouse fire, possibly in Middleton in the early 1970s.
[Pictures courtesy ~ A. Entwistle and reproduced with permission.]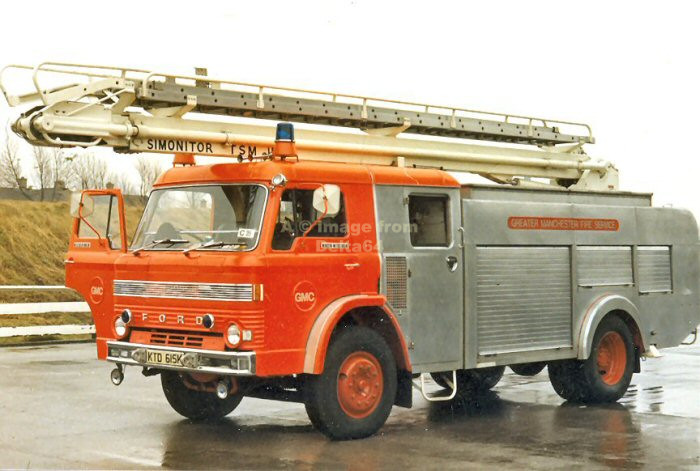 Simonitor or more precisely Escape Monitor KTD615K subsequently passed to GMC in whose ownership it was seen here.
[NP collection ~ courtesy A Collier]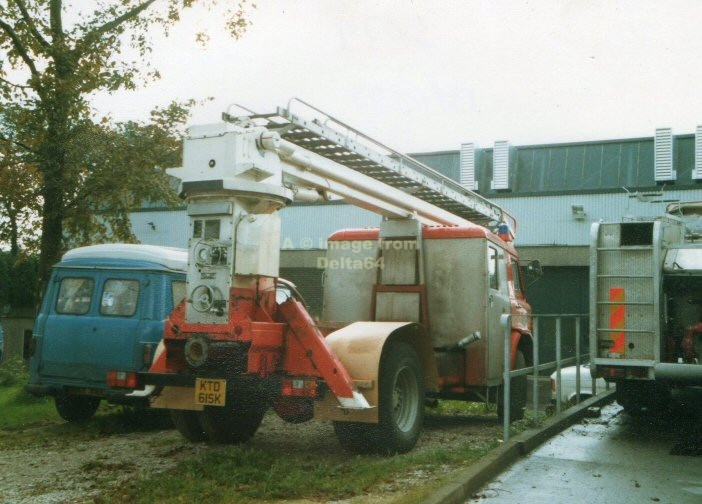 After service with Lancashire and GMC, KTD615K passed to West Yorkshire where it was seen minus its body, 13 October 1987.
[Copyright picture ~ G. Rothwell and reproduced with permission.]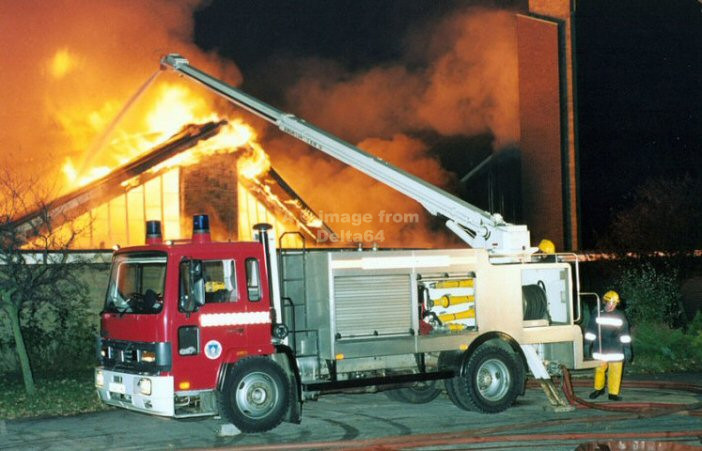 Subsequently the booms appeared on Volvo F848SHD in the West Yorkshire fleet and gave many more years of service.
[Copyright picture ~ I. Kitchen and reproduced with permission.]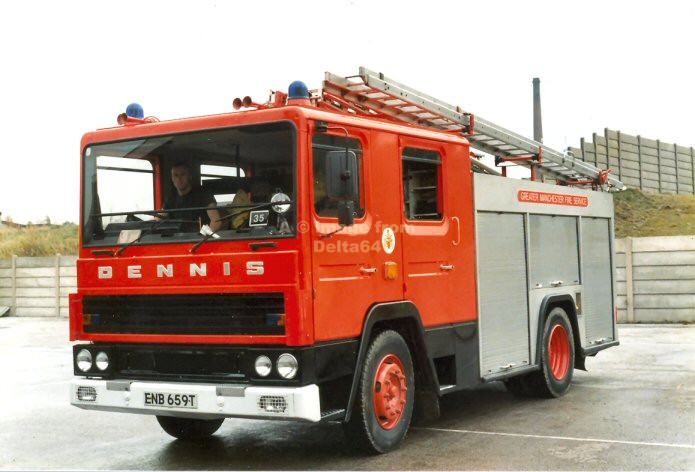 Dennis RS ENB659T was seen at the rear of the fire station.
[Copyright picture ~ the late Alan Gartside and reproduced with permission.]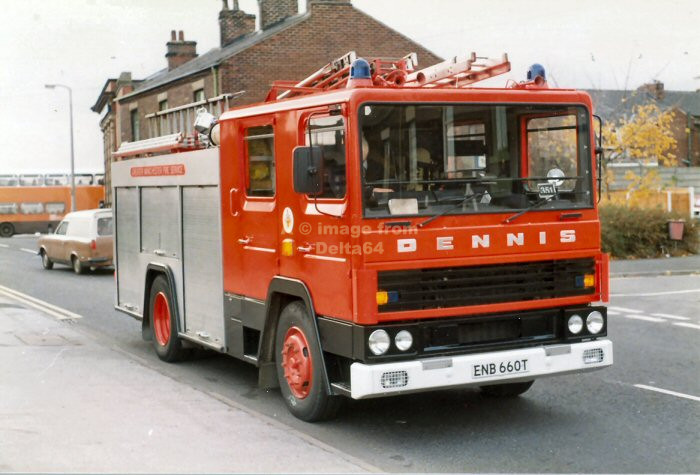 Dennis RS ENB660T was numerically the final one of the batch.
[Copyright picture ~ the late Alan Gartside and reproduced with permission.]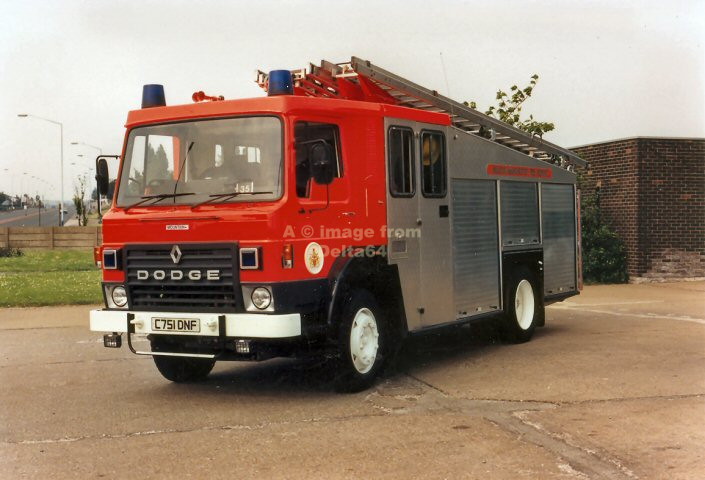 Dodge C751DNF is seen against the familiar backdrop of Broadway.
[Copyright picture ~ the late Alan Gartside and reproduced with permission.]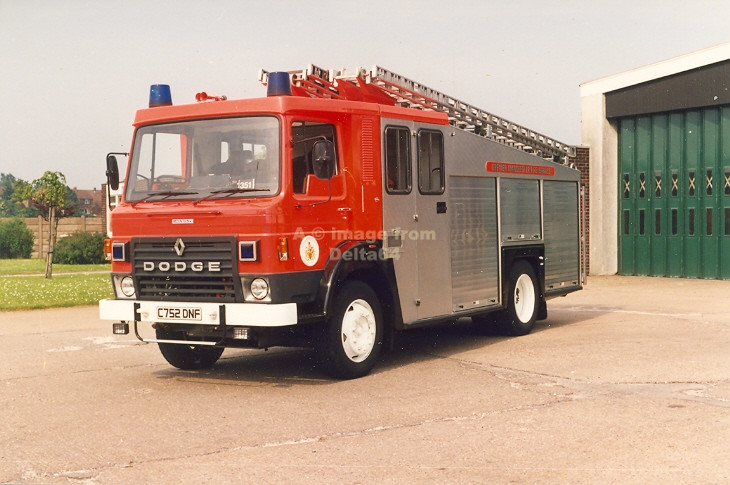 Also taken on the station forecourt was this picture of Dodge C752DNF.
[Copyright picture ~ the late Alan Gartside and reproduced with permission.]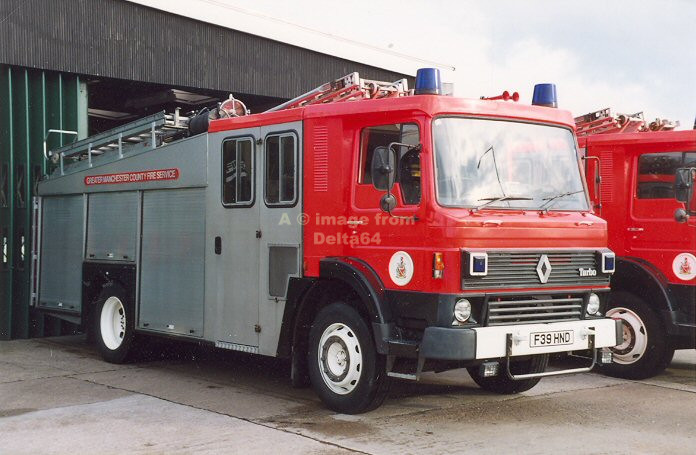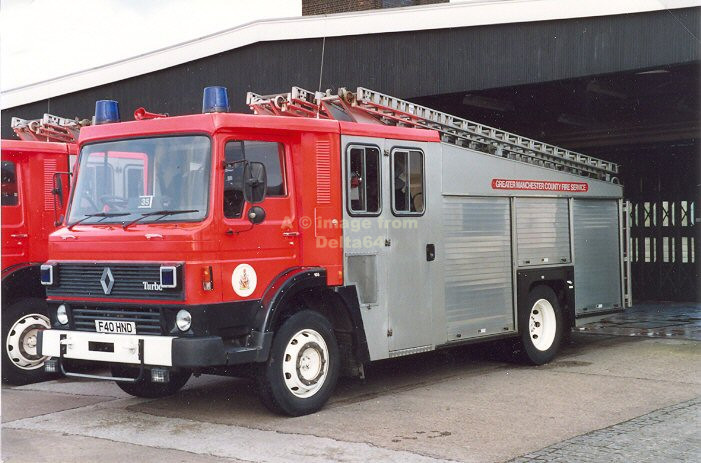 Dodges F39HND & F40HND were both seen on the station forecourt.
[Copyright photograph Iain Kitchen and reproduced with permission.]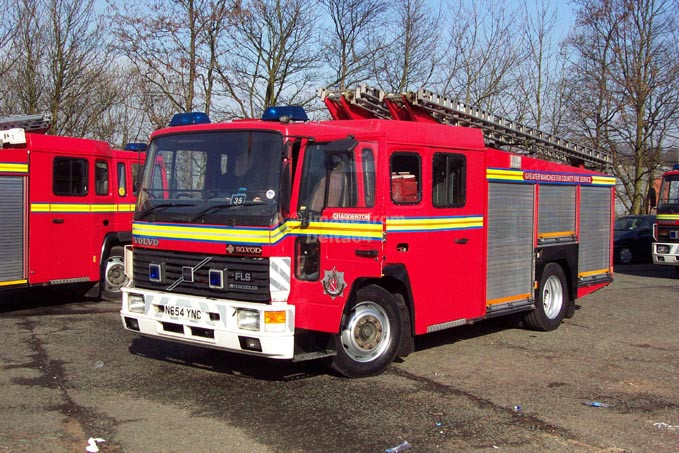 Volvo FL6 N654YNC was seen at an incident in Rochdale, 21 March 2003.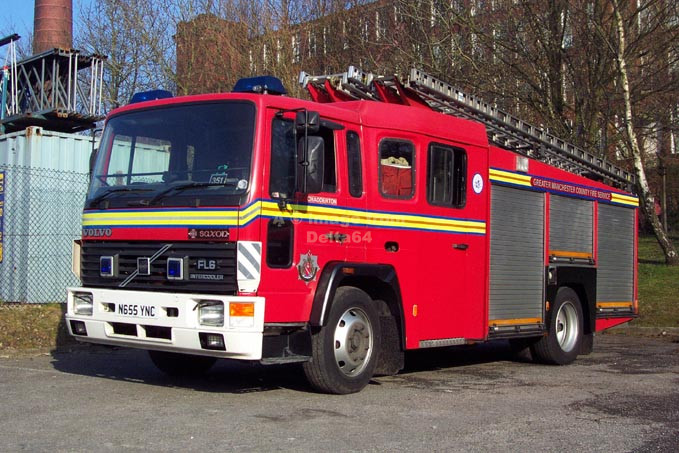 Sister appliance N655YNC was seen at the same location on the following day, 22 March 2003.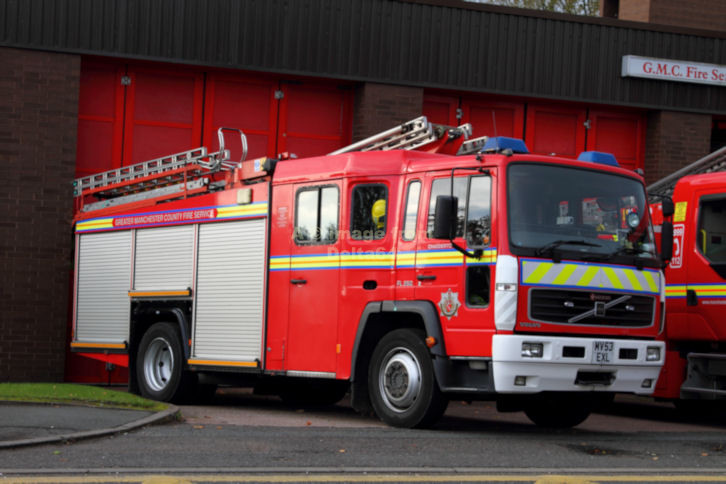 Volvo MV53EXL was seen on the forecourt at Oldham Fire Station, 29 October 2011.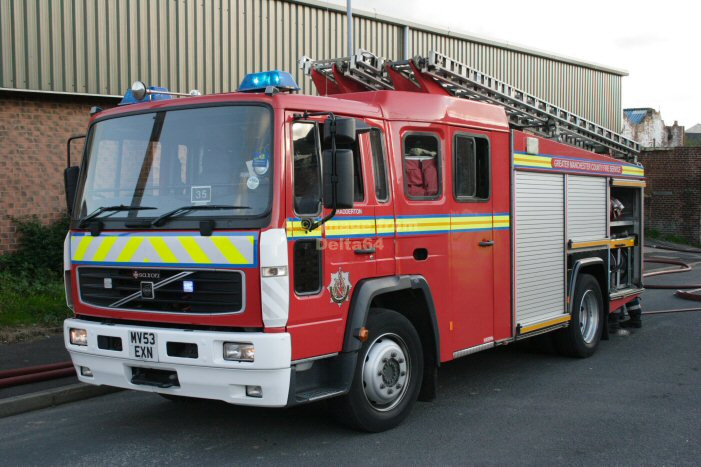 Volvo FLH MV53EXN was seen at an incident in Chadderton, 24 August 2006.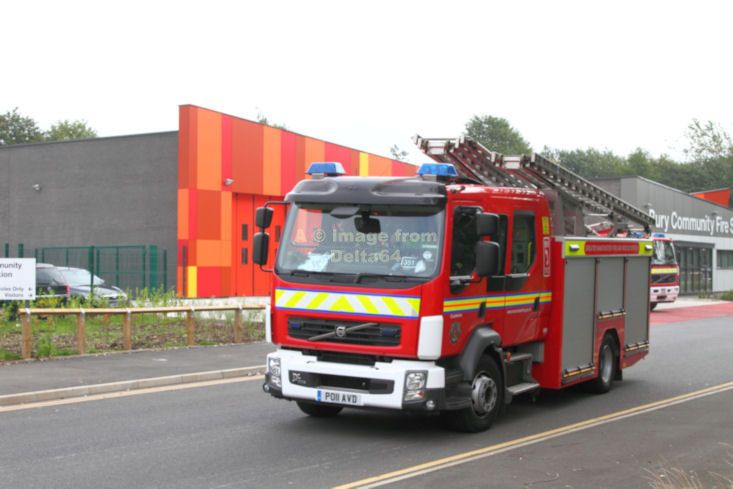 Volvo PO11AVD was seen leaving Bury Fire Station during an exercise, 8 September 2012.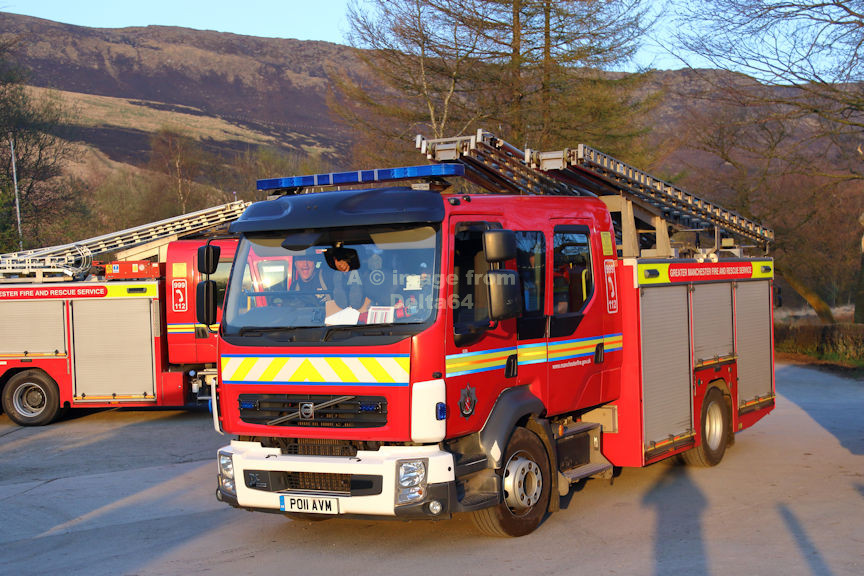 PO11AVM was seen leaving an 11 pump fire in Saddleworth, 19 April 2018.