B33/D33/B22/W52 HORWICH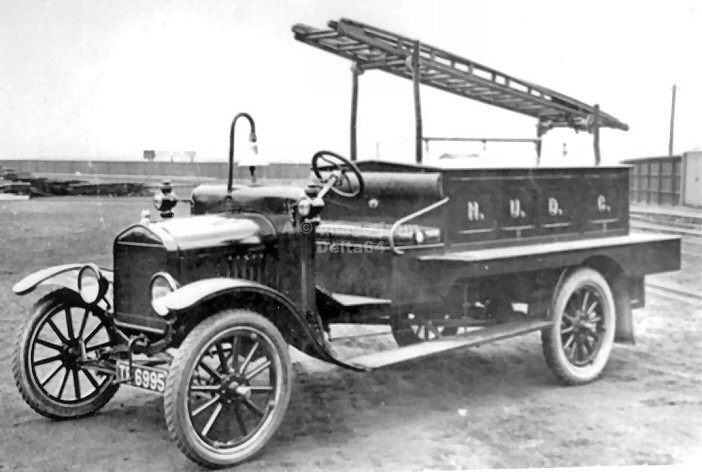 Ford pump TB6995 which would slightly pre-date the appliance below.
[From the Arthur Collier collection and reproduced with permission.]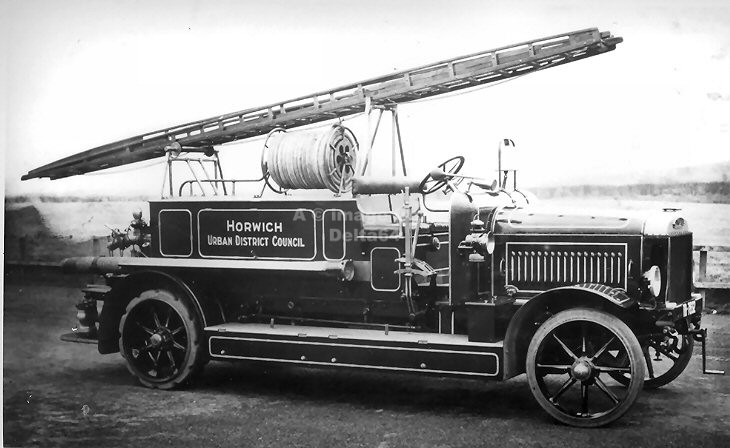 Leyland FE TB7832 dating from 1921.
[From the Bernard Ashcroft collection and reproduced with permission.]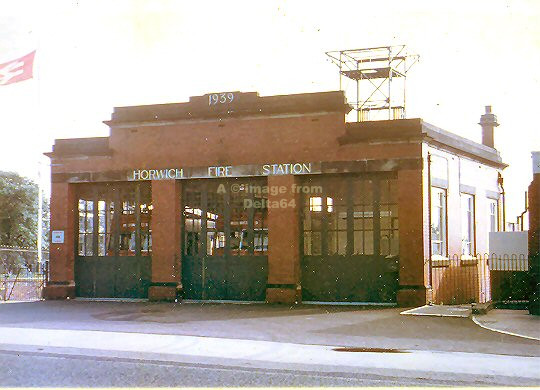 Originally a Lancashire County Station, Horwich was renumbered to station D33
prior to moving into Greater Manchester where it then became station B22
The '1939' stonework is incorporated into the present station, built on the same site.
The appliances are likely to be Bedford KELs with HCB-Angus bodywork, JTB342B and JTE 346B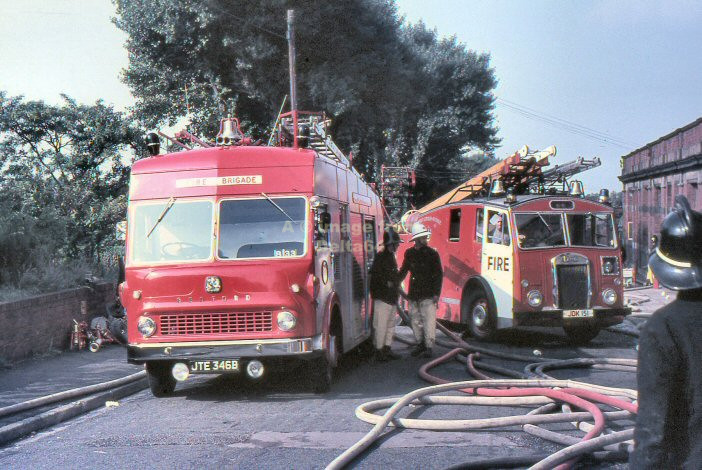 Bedford KEL JTE346B was seen in company with Rochdale F12 Pump Escape JDK151 at Park Mill, Royton, 8 August 1970.
[Copyright picture ~ Satis UK and reproduced with permisison.]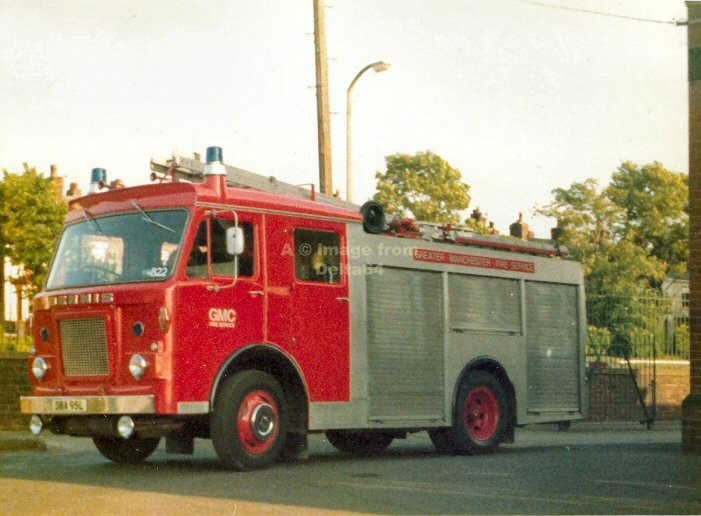 Originally with City of Salford Dennis DJ DBA95L was based here for around 5 years.
[Copyright picture ~ C. Brownlow and reproduced with permission.]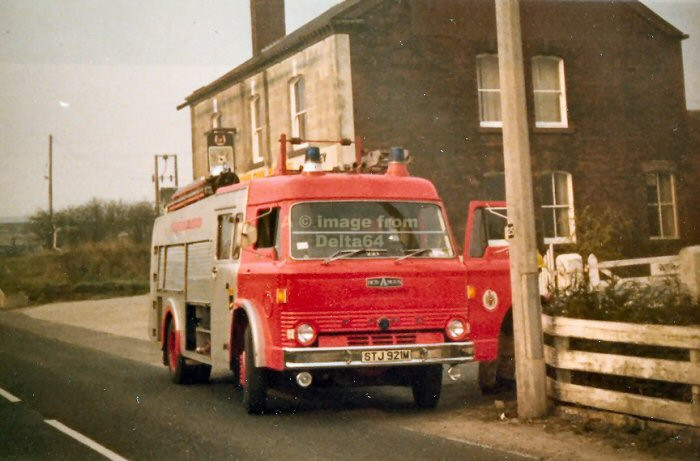 Ford D1114 STJ921M
[Copyright picture ~ C. Brownlow and reproduced with permission.]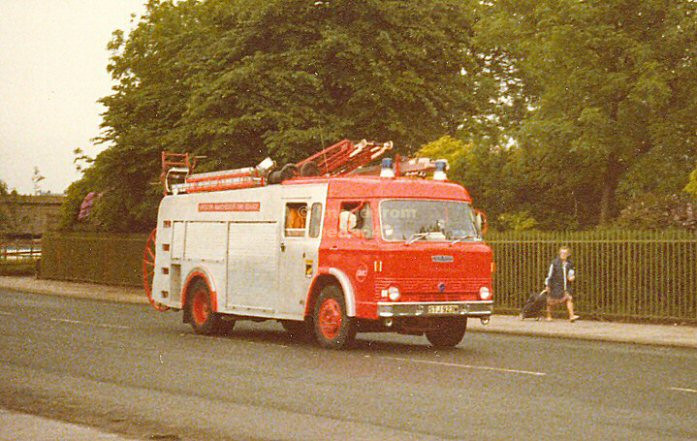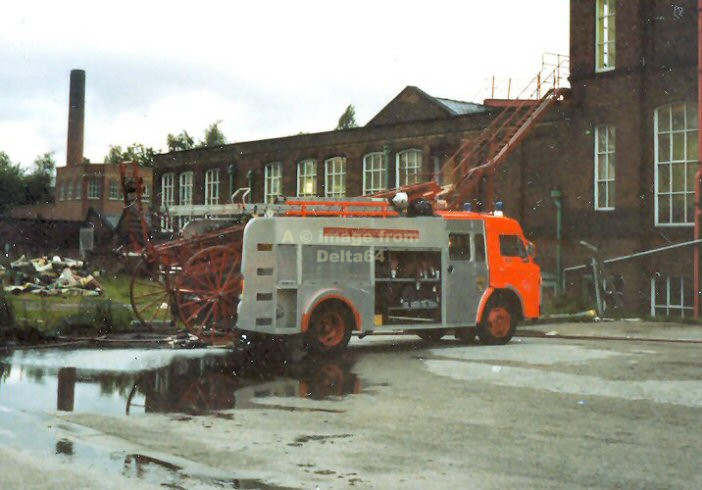 Two fairly rare pictures of STJ923M carrying a wheeled escape.
Although ordered by Lancashire County this appliance was never used by them and passed directly to GMC.
[Copyright picture ~ C. Brownlow and reproduced with permission.]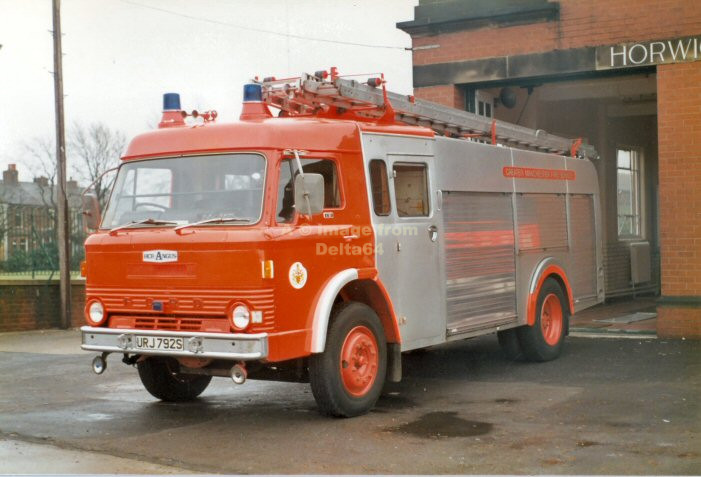 Following repairs from the incident on the Bolton page, Ford D1617 was allocated to Horwich.
[Copyright picture ~ the late Alan Gartside and reproduced with permission.]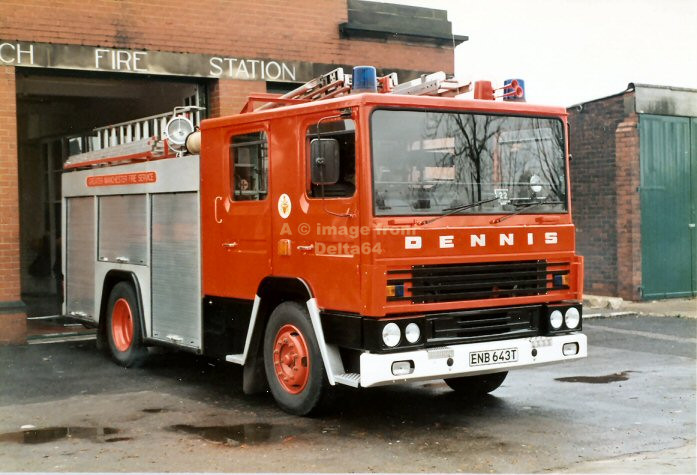 As with the RS below, ENB643T was originally based at Rochdale.
[Copyright picture ~ the late Alan Gartside and reproduced with permission.]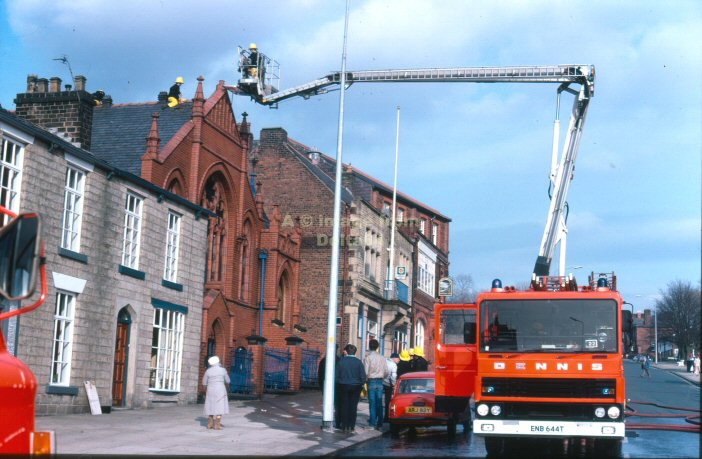 Dennis RS ENB644T moved here having been originally at Rochdale.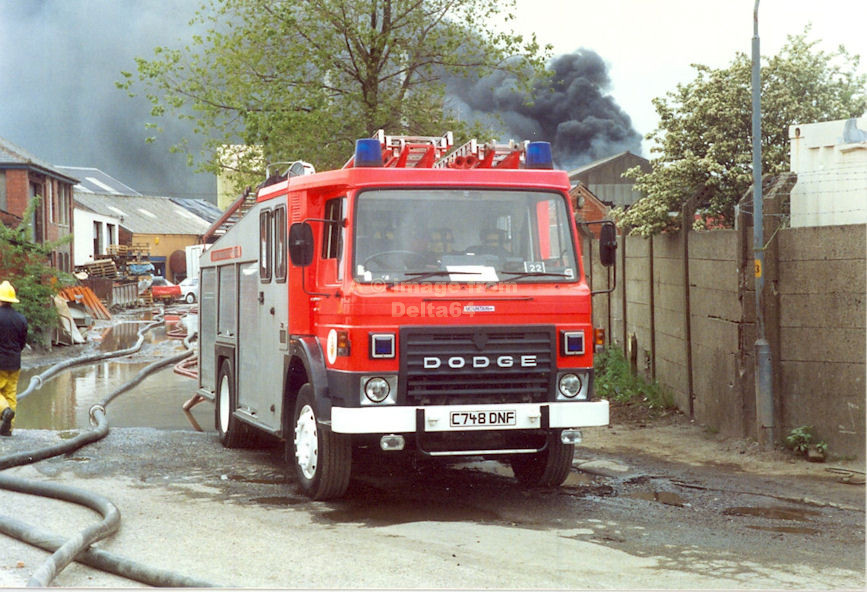 Although originally based at Hyde Fire Station, Dodge C748DNF spent most of its working life allocated to Horwich.
[Copyright picture ~ Aidan Anderson and reproduced with permission.]
Volvo X847KNA was seen at large fire in Daisy Hill, 28 October 2003.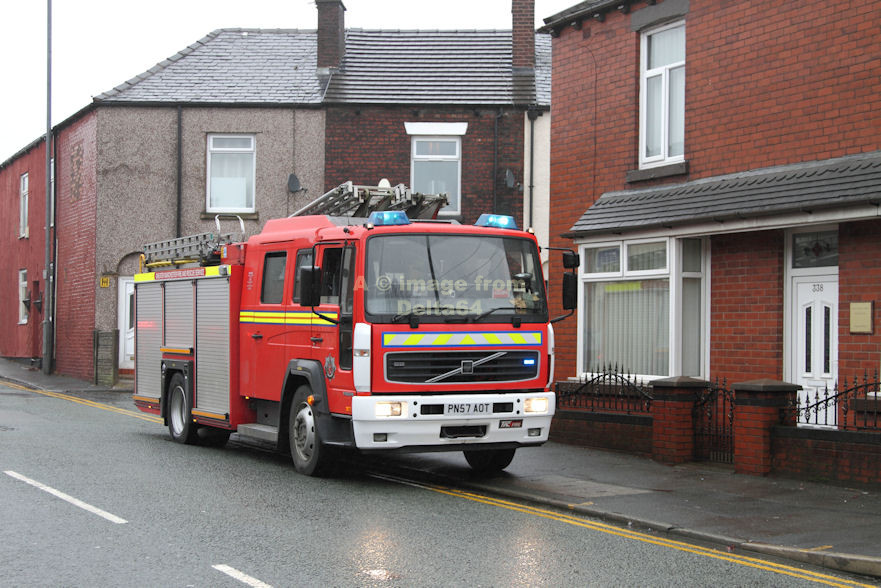 Volvo PN57AOT was seen in Wingates, 17 December 2014.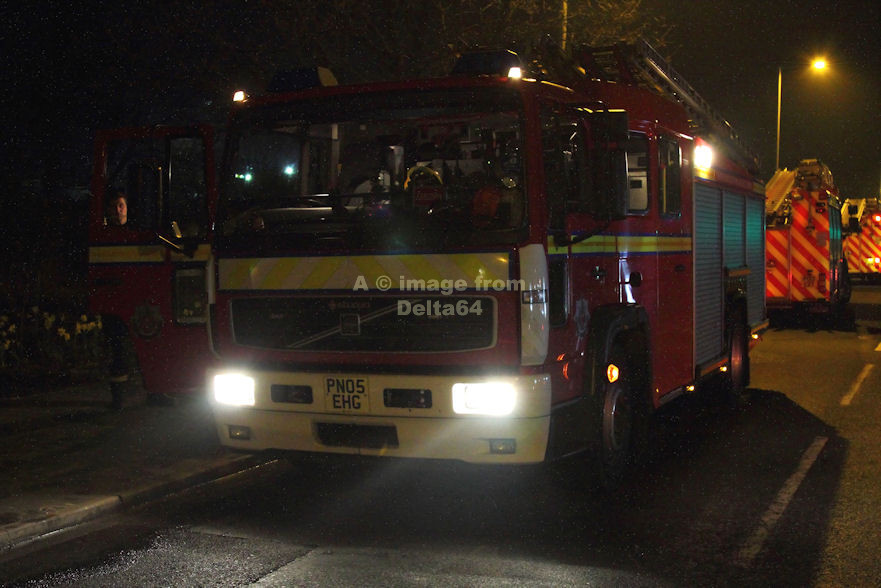 Volvo PN05EHG was seen at a 15 pump incident north of Preston in Lancashire, 10 April 2015.
[Apologies for the poor quality picture.]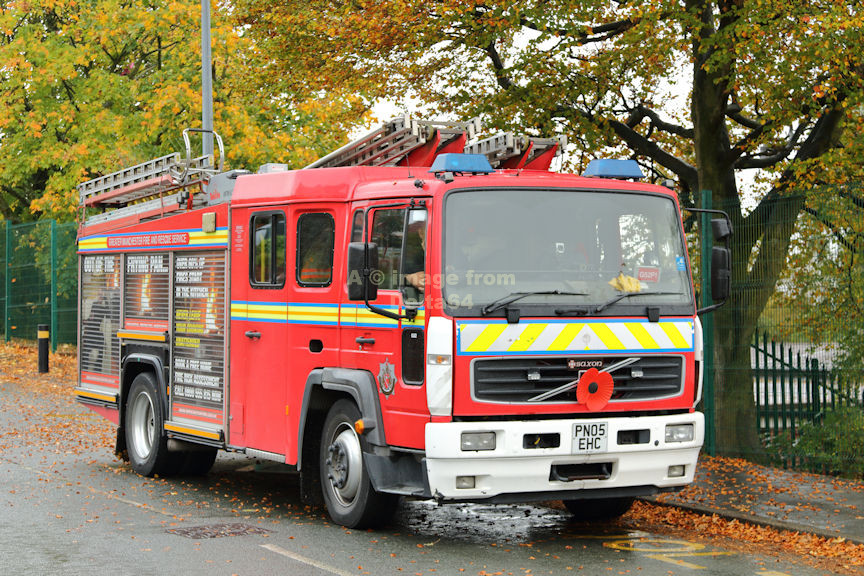 Volvo PN05EHC was seen at an 8 pump fire in Breightmet, 21 October 2018.